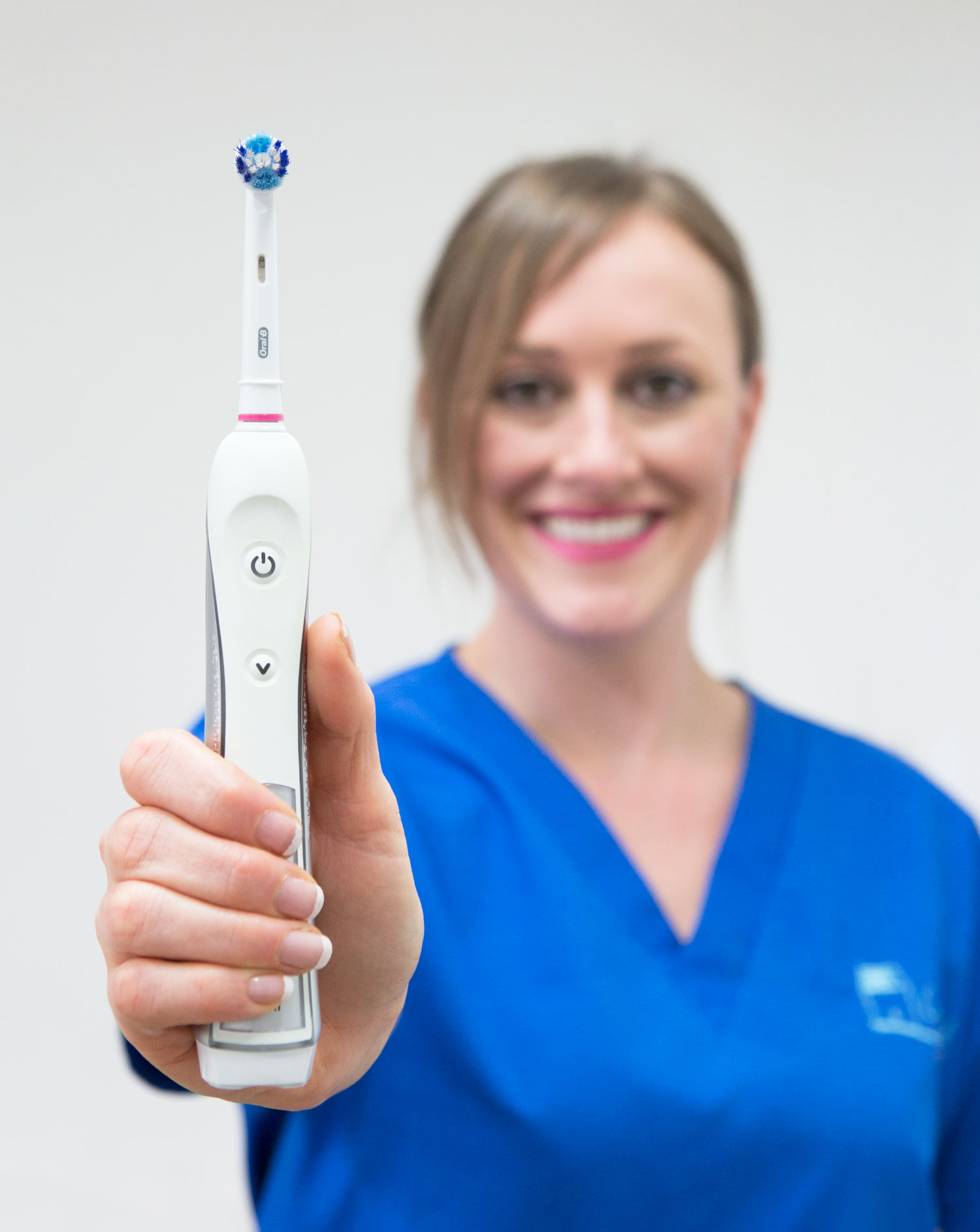 An effective daily dental hygiene routine is essential to keeping plaque – the primary cause of gum disease – at bay. It will help you:
Enhance the effectiveness of any gum treatment or implants you might require
Maintain your gum health and any restored (implant) teeth you have.
This is where our highly experienced hygienists can help. They will look at what you are currently doing at home to keep your mouth clean, see how you can improve it, and give you additional skills, tools and techniques for effective plaque removal.
They will show you how best to use both electric and traditional toothbrushes, dental floss and special interdental brushes. This will even include simply checking that you brush your teeth correctly (a surprising number of people don't)! The critical regions we often overlook when cleaning our teeth are the gaps between them and the areas just under the gum line. This is where plaque can take hold and lead to gum disease and is far more important than the tooth surfaces, which almost take care of themselves.
Top brushing tips
Brush your teeth for 2 minutes, twice a day. The best times are before breakfast and last thing at night
Use an oscillating and rotating electric toothbrush – these are clinically proven to remove more plaque than manual toothbrushes
It is important to angle the bristles at 45 degrees to your gums
Use a regular fluoride toothpaste with no less than 1350ppm fluoride (you'll find this information on the tube, usually under 'ingredients')
Don't rinse your mouth out after brushing otherwise you wash away all the fluoride toothpaste and minimise its benefits
Use an inter-dental brush such as a TePe to remove the plaque and bacteria from in-between your teeth. It is important to do this every day as part of your oral hygiene routine, as this is where around 90% of dental problems appear
To remind you to clean in-between your teeth daily, stick a 'Post It' note on your bathroom mirror or set a reminder on your phone
Reducing the bacteria levels in your mouth lowers the risk of tooth decay and gum disease
To help prevent cavities, try to keep all sugars to meal times. If you do snack between meals, stay with healthy options such as cucumber or carrot sticks
Make regular appointments with your dentist and hygienist – preventing problems is better than curing them!
Frequently Asked Questions
How do I maintain good dental hygiene?
By following an effective daily dental hygiene routine at home, visiting our hygienist twice a year (or more often if recommended), and taking on board relevant dietary advice.
Can poor dental hygiene cause heart disease?
Yes. Where poor hygiene results in harmful bacteria entering your bloodstream, they can cause bacterial endocarditis (a serious inflammation of the inner lining of the heart) and can infect and potentially damage heart valves. Other cardiovascular conditions such as atherosclerosis (clogged arteries) and stroke have also been linked to inflammation caused by oral bacteria.
Can poor dental hygiene cause stomach problems?
Quite possibly. Recent studies indicate that oral bacteria from gum disease may increase people's risk for sores in the digestive tract that can lead to stomach cancer.
Why is dental hygiene important?
Maintaining good dental hygiene will go a long way towards eliminating the risk of gum disease. This not only affects your mouth and teeth: if associated bacteria are allowed to enter your bloodstream, they can cause serious problems throughout your body.
What should I expect at my first dental hygiene appointment?
Our hygienist will check your teeth and gums, assess and record the level of your oral health. They will also discuss and advise on diet, how to establish a good oral health regime at home, and how best to use relevant tools (brushes, interdental aids etc).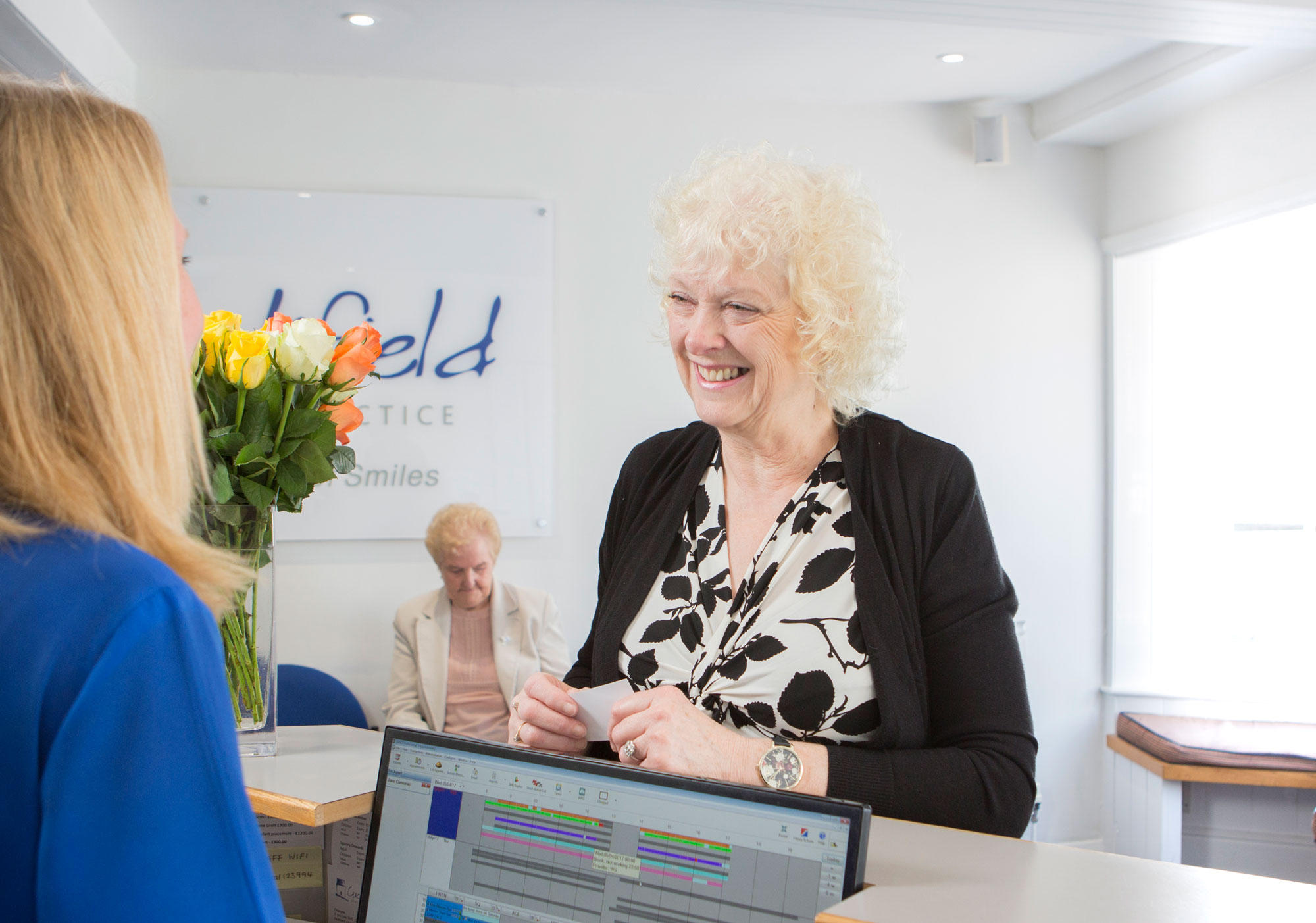 Our aim is to treat everyone as an individual, whether private or NHS, and make your experience here as comfortable as possible.
We always take the time to listen to your questions and concerns with kindness and courtesy
We encourage all our staff to regularly augment and update their knowledge and skills
We offer appointments outside working hours, including every Saturday morning, and do our utmost to offer emergency patients same-day appointments
We cover all aspects of dentistry and can accept patients for endodontic (root canal) referrals and implant procedures
We are proud to have reached the high standards required for KSS (Kent, Surrey and Sussex) Deanery accreditation, which enables us to be actively involved in the postgraduate training of new dental graduates (foundation dentists). Several of these have stayed on with the practice to become associate dentists with us.
We will be delighted to welcome you to our friendly practice.
Frequently Asked Questions
Are you taking on new patients, and do you treat children?
Yes, we are taking on new private patients and welcome your children too. We do treat a number of NHS patients, but our quota is currently full.
Do you open late or weekends?
We open till 18.10pm on Mondays, 19.30pm on Thursdays, and every Saturday morning. We also start early – at 7.45am – on Thursdays.
Do you have wheelchair access?
Unfortunately we don't have wheel chair access because of our practice being located in a listed building.
Is there parking on site or nearby?
There's a car park in Broad Street, just off the High Street. To use this you'll need a £1.00 parking disk which you can buy from the Post Office, the Co-Op or from our reception team. If there are spaces available you can park for free on the High Street and surrounding roads.
Do you have appointments for emergencies?
We have emergency appointments at selected times throughout the day, and we always try to see our emergency patients on the day they contact us.
I might need an implant, can you help me?
Yes, we'd be delighted to help. We'd initially book you an appointment to discuss this with the dentist and then, if you wanted to proceed with implant treatment, we'd refer you to our award-winning colleagues at The Implant Centre (Hove and Hayward's Heath).
What sort of dentists do you have, and are they well trained?
All our dentists are fully qualified and committed to continuing professional development. Many of them have completed additional training in more specialised areas of dental practice
Do you do tooth whitening?
Yes, we do home tooth whitening. This is where we make you the whitening trays and then provide you with the whitening agent to take home and complete at your own convenience.
How much is a private consultation, and what does it entail?
A private consultation costs £95. This includes an examination, all X-rays and, where appropriate, intra-oral photos and impressions of your teeth for models.
Do you have a hygienist?
Yes indeed – we have a hygienist at the practice every day. You can either book an appointment yourself or be referred by your dentist.
Please rest assured that we will never discriminate against you for making a complaint.
Should you ever have reason to feel dissatisfied with any aspect of your treatment here, it's vital that you let us know so we can learn from it. We give extremely high priority to patients' and carers' adverse comments and complaints: we look into them immediately, seek to resolve them as quickly as possible and keep comprehensive records.
In summary:
Our Practice Manager, Kerry Davies, is responsible for managing any complaint about the service we provide. The Principal, Dr. Simon Quelch, has overall responsibility for what happens at Cuckfield Dental Practice
Wherever possible we will refer a complaint to Kerry immediately, whether by phone or in person. Failing that we'll take brief details and make arrangements for her to contact you
Complaints about any aspect of clinical care or associated charges will normally be referred to the dentist, who will investigate thoroughly and prepare a draft response for Simon
We will acknowledge your complaint in writing within 3 days, and enclose a copy of our Complaints Policy – normally within 14 working days. We aim to investigate a complaint within 10 working days of receiving it. If this proves impossible, we'll let you know and give you a good idea of when our investigation will be completed
We will send our findings to you in writing. If patients are not satisfied with the investigation and outcome, then you can escalate your concerns as outlined towards the end of our Complaints Policy.
A written Complaints Procedure is displayed in both waiting rooms at Cuckfield Dental Practice.